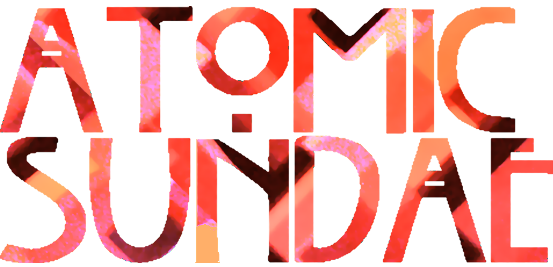 These are demo recordings from 2014,
EP - "Fire Aim Ready":
© 2012 - 2015 Atomic Sundae
ABOUT ATOMIC SUNDAE
Atomic Sundae is an original Chicago rock band of many sounds, colors, flavors, and original songs. They rock. If you really like rock music, you will probably like Atomic Sundae. Their tastes and sounds are bigger than just four personalities. Two women, two men. They tell stories, paint pictures, entertain, amuse, and excite audiences with their creative music and performances.
If you enjoy bands like: The Clash, The B-52's, Ty Segall, the Strokes, Nirvana, Speedy Ortiz, Iggy/Stooges, Hot Water Music, Arctic Monkeys, Savages, Black Rebel Motorcycle Club, Jefferson Airplane, the Jam, Modest Mouse, Cloud Nothings, The Who, Patti Smith, TV on the Radio, Blondie, New York Dolls, Ace of Cups, Smashing Pumpkins, Ramones, Luv'd Ones, Sonic Youth, the Kinks, Muse, 13th Floor Elevators, Talking Heads, Elvis (both kinds), The Police, Pink Floyd, Violent Femmes, Velvet Underground, and The Runaways... you might *really* like Atomic Sundae. They sound kinda like &/or are influenced by all those and many many more . . . Jimi Hendrix, Best Coast, Led Zeppelin, the Oh Sees, Flaming Lips, the Pixies, Fugazi . . .
SEX, LOVE & ROCK 'N ROLL!
ATOMIC SUNDAE is an ORIGINAL rock band from Chicago.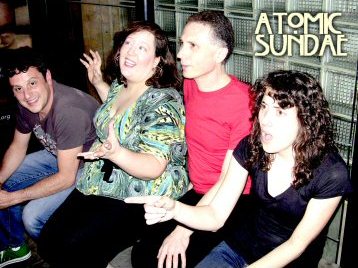 VIDEOS and PHOTOS of Atomic Sundae are available on ReverbNation (click here)!
Thanks to everyone who has gone to any of our shows,
we greatly & truly appreciate your support!


Follow Atomic Sundae on Twitter & FB etc. (links above)
ATOMIC SUNDAE
Maria Poulos (guitar, vocals)
Chris Talline (guitar, vocals)
Ruth Gagliano (bass, vocals)
Myron Katz (drums)
Please share with your friends!
THANK YOU FOR SUPPORTING LOCAL MUSICIANS, BANDS, ARTISTS, MUSIC & ART!
© 2012 - 2016 Atomic Sundae powered by: compfriend.com